PMEGP Online Application Form for Non-Individual Applicant Apply Online at http://kviconline.gov.in/pmegpeportal/ website….
Thanks to innovations in the world of technology, the internet to be precise, you no longer have to go through a lot before you can finally apply for PMEGP loan. Rather than availing yourself physically to the relevant offices, you can get done with everything from the comfort of your couch. All you need is an internet-enabled device together with a strong network and you are good o go.
With all these in place, you ought to visit PMEGP e-portal from where you can complete PMEGP registration hassle-free by simply filling and submitting the online application form. This comes as good news to many considering you no longer have to waste time or incur additional transport costs.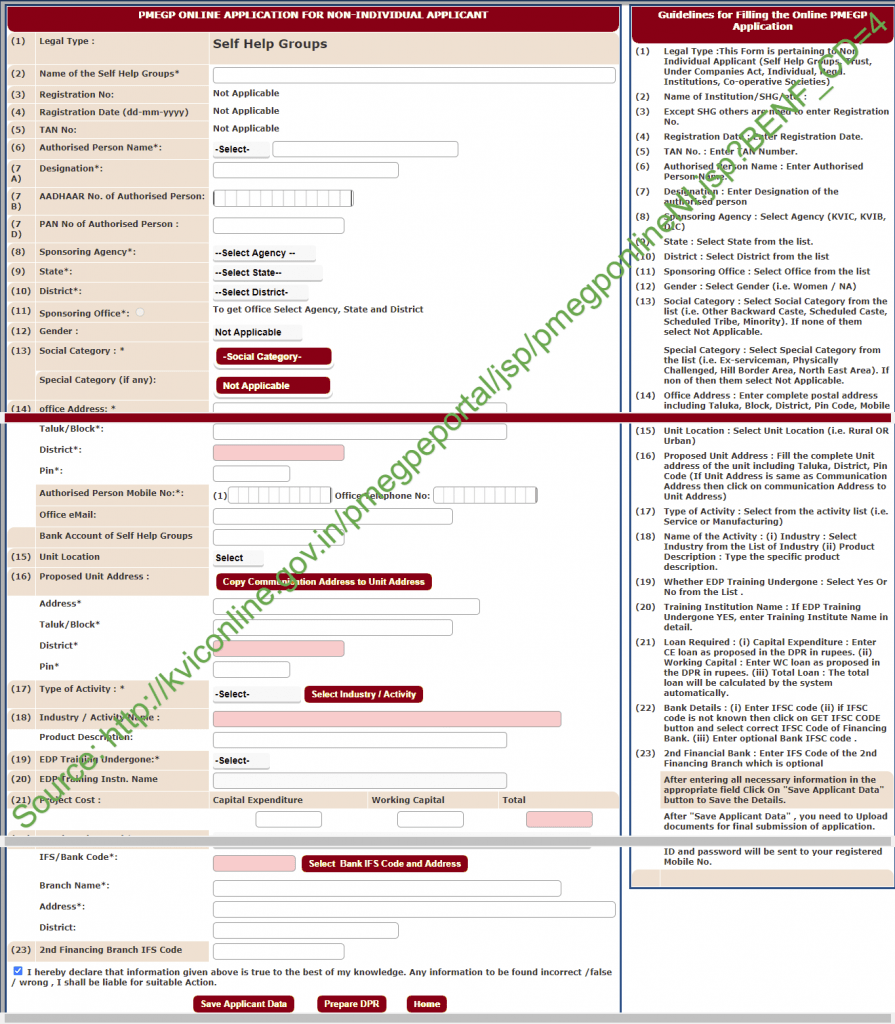 How to Fill PMEGP Online Application Form for Non-Individual
Just as is the case with online application for individual, filling PMEGP non individual Online application is never going to take most of your time. To ensure you have a fascinating experience, below are the steps you need to follow when filling PMEGP application form for non-individual at www.kvcionline.gov.in.
First, visit PMEGP e-portal using www.kvcionline.gov.in as the URL. This action will automatically take you to the home page of PMEGP e-portal.
Here, you need to click on 'Online Application Form for Non-Individual' option.
On the new page that appears on the screen of your device, you have to choose one from the options provided i.e. Self Help Groups (SHG), Trust, Regd. Institutions and Co-operative societies. Be sure to choose an option that best describes your venture.
You'll automatically be redirected to the PMEGP online application for non-individual applicant page.
Next, carefully fill out the form by providing details such as sponsoring agency, office address, type of activity, first financing bank, 2nd financing branch IFS code to mention a few.
Once you fill all the details, click on 'Save Applicant Data' option.
Upload the mandatory documents and prepare for final submission.
Before submitting the information, an application ID and password will be sent to your registered mobile number.
Once you have your application ID and password, log into the 'PMEGP portal' from where you fill the remaining form thus completing the application process.
As long as you have a strong internet connection, it will only be a matter of time before you finally complete the application process. No queues, No transport costs.
How to Apply PMEGP Online Application for Non Individual Applicant at kviconline.gov.in?
How to Apply for PMEGP Online Application for Non Individual?

I never seen these type of simple procedure. Just google it this key word 'kviconline.gov.in pmegp'. Hit the 1st link button. The application will be opened on screen. Just fill the mandatory fields then press 'Prepare DPR'.

How to fill PMEGP Non Individual Online Application at kviconline.gov.in?

After following the above procedure you just follow my instructions. Enter your Aadhaar Number, Applicant Name, Agency Sponsor, Choose District / State, Legal type, Gender, Date of Birth, Type of Activity, Taluk office etc. After filling the mandatory field just hit 'Save Application Data'. After click on 'Prepare DPR' button.