The following are the PMEGP Eligibility criteria who are depending on bank loan those citizens must follow the below rules and regulations…..
PMEGP Eligibility Conditions of Beneficiaries
Before you even think about applying for PMEGP loan, you need to check whether you are eligible. After all, there is no essence of starting the application process yet you do not meet the set standards. To ensure you're making a well-informed decision, here is a full list of eligible candidates.
Production co-operative societies
Charitable trusts
Societies registered under the Societies Registration Act, 1860
Self-help groups yet to avail any other benefit under the PMEGP scheme
Individuals above the age of 18 and must have studied and passed at least class 8 before they can start a manufacturing unit that costs over Rs. 10 lakh or service unit costing over Rs. 5 lakh with the loan.
If you meet any of the above-mentioned criteria, then you should never hesitate to apply for a PMEGP loan. The good news is you not need to have any income ceilings before availing this loan. Nevertheless, the loan is not available for operating units established under REGP, PMRY, or other government schemes, but rather given to new units.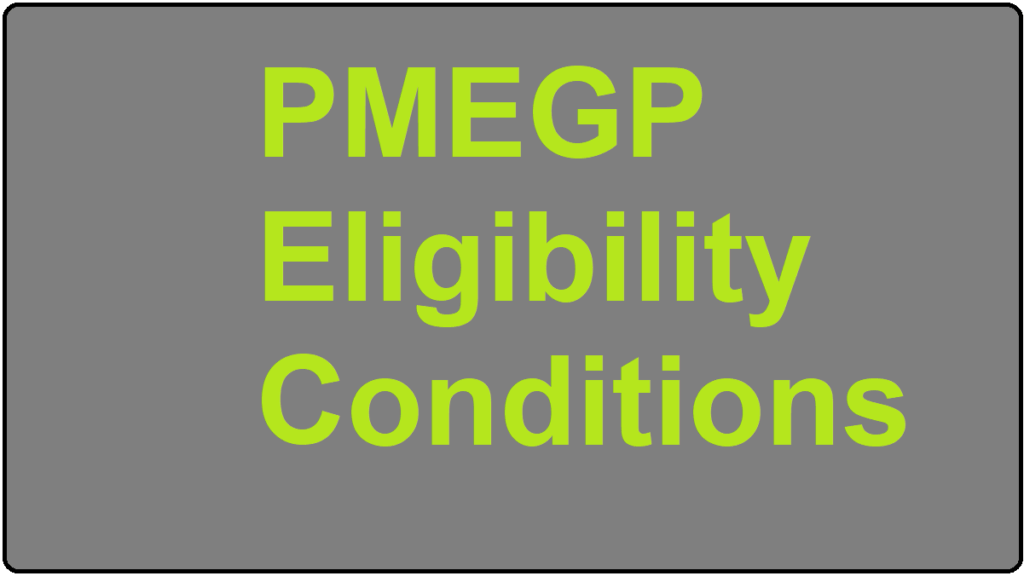 Other PMEGP eligibility conditions
A certified copy of the caste / community certificate or relevant document issued by the competent authority in the case of other special categories, is required to be produced by the beneficiary to the concerned branch of the Banks along with the Margin Money (subsidy) Claim.
A certified copy of the bye-laws of the institutions is required to be appended to the Margin Money (subsidy) Claim, wherever necessary.
Project cost will include Capital Expenditure and one cycle of Working Capital. Projects without Capital Expenditure are not eligible for financing under the Scheme. Projects costing more than Rs.500000/-, which do not require working capital, need clearance from the Regional Office or Controller of the Bank's Branch and the claims are required to be submitted with such certified copy of approval from Regional Office or Controller, as the case may be.
Cost of the land should not be included in the Project cost. Cost of the ready built as well as long lease or rental Work-shed/Workshop can be included in the project cost subject to restricting such cost of ready built as well as long lease or rental workshed/workshop to be included in the project cost calculated for a maximum period of 3 years only.
PMEGP is applicable to all new viable micro enterprises, including Village Industries projects except activities indicated in the negative list of Village Industries. Existing/old units are not eligible (Para 29 of the guidelines refers).